Nestled on the eastern shores of spectacular Vancouver Island, the Town of Ladysmith features all the warmth and charm of small town living with a full range of services and amenities. Ladysmith is a growing community (population 8,243 in 2010) located just 88 km (55 miles) north of Victoria and 23 km (14 km) south of Nanaimo.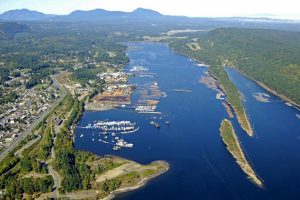 A 2003 National Communities In Bloom award winner, the town of Ladysmith offers has an abundance of charm and spirit that make it one of the most interesting places on Vancouver Island to own a home and raise a family. It features world-class outdoor recreational opportunities with a renowned trail system through picturesque forests. The historic downtown area has a unique collection of century buildings that have been restored and are now home to the core businesses and offices in the town. There are shops and services of all varieties with enough selection that it's possible to fulfill all your home and personal needs without leaving the community.
Located on beside a sheltered cove, Ladysmith harbour features some of the warmest swimming water north of California. Transfer Beach is the main recreation venue in the summertime with live performances in the open-air amphitheatre, car shows, and expos of all kinds especially during Ladysmith Days in August.
In the winter, Ladysmith is home to the Festival of Lights, which features over 1 million christmas lights all turned on in a celebration called Light Up, usually the last week of November. The town hosts a parade, live entertainment, a Christmas tree decorating contest. and food carts. The event attracts over 25,000 visitors on the first night, effectively quadrupaling the town's population.
For detailed information about Ladysmith's many attractions and adventures, explore the Tourism Ladysmith website at www.tourismladysmith.ca.
Considering a visit? The Ladysmith Chamber of Commerce / Visitor Information Centre would welcome the opportunity to assist with your vacation planning. Visit their informative website at www.ladysmithcofc.com, call (250) 245-2112 or drop by their office at 411B 1st Avenue in Ladysmith.
Download the full PDF version of the Town of Ladysmith Community Profile.